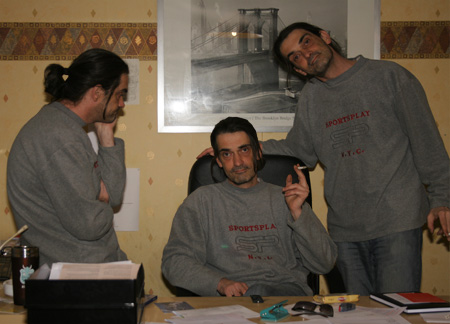 'Are they always positive?' This is the question I ask myself so now and then when I think on all this positive lifestyle gurus. 'Are they never ever struggling in life?' This would be the second most upcoming question when I think on them.
You see, I guess, we both know the answers to these questions:
No, they are not always positive.
Yes, they also struggle with things. Just like you and me.
There is no wizardry or magic involved, but as they following their own techniques they will overcome negativity and struggling faster.
I'm not a guru, but pretty much positive. This positivity brings a certain responsibility with it. Especially if you share it with other people on a blog and try to motivate them to become positive too. Or, if they already are positive, to share it with the people around them. What I mean with this responsibility thing is this: how can I tell someone how to be positive, when I'm not positive myself. It's the same like telling others exactly how to repair their car without being able to do it myself.
However, I have to confess that I am not positive all the time. I struggle and have negative thoughts just like everybody. Sometimes it feels like I'm standing besides myself, just like on the picture above. Luckily I almost immediately take notice of it and do my best to change it on the spot when I recognize it. So now and then I need to be attended on the fact that I'm thinking and acting against my own rules.
In the last days when I was struggling, my girlfriend told me that I'm focusing on the negative things instead of the positive. Normally I would tell her this.
Isn't it a contradiction not to follow the rules you recommend others?
I remember a case where Paul McKenna was sued by a weirdo who's girlfriend insisted that he had become insane after a stage hypnosis, performed by Paul. Though McKenna won the trial as it could be proofed that this is impossible and the guy was out of his mind before he joined the show. Paul McKenna stated that this was a very annoying experience for him. Just like someone is pulling the floor away under his feet and he's falling into a deep hole. He said that he was able to help other people but wasn't able to help himself. It was very hard for him. You see, also a self help guru can struggle.
I am sure you've had comparable experiences in your life. Not that it had to end in a trial, but I'm sure you found yourself in situations where you have helped others out of an annoying situation. No matter how. It could have been with a nice talk, with giving someone shelter or whatever. I'm also sure that you found yourself helpless when you were in such a situation yourself. Where you was the one who needed the talk or helping hand. This would have been a moment of self doubt for you. The moment where you think Shit, how can I give someone good advice, when I don't even can give myself good advice?
Rest assured that this is normal. A negative thought has it's importance. It attends you on the fact that something is wrong and has to be fixed. You can compare this with pain. The pain your broken arm sends to your brain reminds you to see a doctor. OK, this example is a little awkward but it's nonetheless true.
There are even positive thoughts that can create negative feelings. I come back on this soon.
Have a nice weekend and thanks for your visit.
Mario
Related Posts