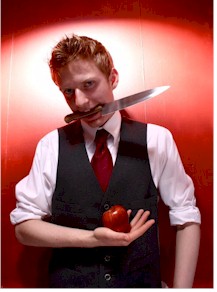 As I like to see people following their passions and going for the things they really want in life, I want to talk today about a young talented guy from Mississippi: Nathanael Gassett. The first contact I had with Nathanael dated back in the last days of October 2007, when writers around the globe where waiting for November to come and then face the challenge that they were waiting for: writing a novel within 30 days. It was the first time that there was a video group on Viddler especially for this event. We all began making videos a couple of days before and introduced our self to a community, that would result into long lasting friendships. Until the day of today to be correct. There are many funny videos made during this month. By everyone. Some even say that I did some great stuff. But OK, back to Nathanael. I can remember that I was amazed by his ability to really enjoy the small things life has to offer and putting a lot of positive energy into it. In first instance I thought This guy is crazy, when I watched a video where he was surrounded by ticking clocks, to make his anticipation for the event visible for all of us. In the 30 days that followed, Nathanael and all the others delivered a large variety of very entertaining stuff. Remarkable on Nathanael's videos was sometimes the special cinematic touch he gave to it and the special attention of the editing part. Of course he also kept writing his novel and finished NaNoWriMo successfully as one of the many winners. As with the most fellows of the Viddler group I kept in touch with Nathanael ever since. He kept surprising the fellowship when we all learned that he not only wrote plays that are actually played, but also seemed to have a passion for photography.
It was one day on Twitter when I followed one of his conversations with @justjason. He made him a compliment about the pictures Nathanael had taken and I couldn't resist the temptation to follow the link provided. To be honest my first thought was of some lucky snapshots, with the medium quality you are doomed to watch when one of your friends or family members is coming home from a vacation. You know this photographs where you are tempted to ask them if the camera wasn't delivered with an operation manual. But what I saw was far from that. Every picture told a story and had a special look and feel that made me watch it again and again. It didn't took long and Nathanael announced that he was going to work as a photographer for real, beside his job in a coffee shop. A couple of month later he announced that he was going to work full time as a photographer. Hey, this guy is 17 years old. He turns 18 in April. Isn't this great? At this point I thought it would be interesting to take a closer look at Nathanael. Friendly as he is, he agreed to give us a glimpse of how he made the things he likes happen in his own words. (Nathanael's words are cursive and if I feel the need to bring in some individual information I'll do this between brackets).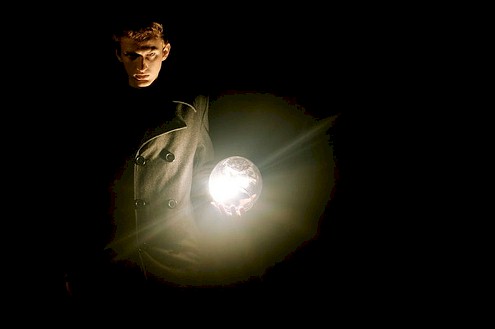 It was in April (I believe) of 2008 that I rediscovered my love for photography and began to pursue it again. But I guess I should start at the beginning. I had tried it back in the film days when I was very young, but was never satisfied with the results, and it took so long to get my pictures back that I never remembered what I did to make them go wrong. It was basically a point-and-shoot film, but I messed up even that! A few years later when digital cameras were starting to be made cheaply, I bought a cheap-o 3 megapixel Vivitar point-and-shoot digital camera and played around with that a little bit. Nothing amazing, but pictures that I thought were great. I got one published in the newspaper and that was really exciting for me. I LOVED seeing my work printed. It was a rush. I played around with the Vivitar for a few years, and I really ran that thing ragged, by the end of it's life it was held together with duct tape and you had to hold the battery door closed for it to stay on long enough to take a picture. After this I bought a high end point-and-shoot (The Panasonic Lumix FZ-8) and it was with this camera that I started my career. A lot of my favorite shots were taken with this camera. It really took off when a friend of mine (another hobby photographer) invited a co-worker from the coffee shop (also a hobby photographer) and myself to go on a shoot at a local park in a historic part of town. I had never been there so of course I wanted to go. It was so much fun, we stayed until it was too dark to see, and exchanged photos afterwards. I liked some of the shots I had taken, and I wanted more. At this time, I was creating art that appealed strictly to myself. This is when my style developed, seemingly by itself. I didn't really work to have a style, it was merely the pictures I saw. I couldn't get enough. I loved it.


(Nathanael made this video when he said hello to his new Nikon D300 and good by to his Canon Rebel XSi. Oh yes, and good bye to his job at the coffee shop.)
It's all I wanted to do. There was so much to learn and so many things I wanted to try. I did a lot of shooting, and I started reading and listening to photography podcasts, any information I could find. Encouraged by my co-worker, I showed my photos to my manager at the coffee shop. In my town, on the first friday of every month all the downtown shops stay open late and each features an artist and their work. He told me I should go for it, since she had booked him for a Friday showing. So I did and she loved them. This would be my first showing. I had a few months before the showing, and at the time I did not have any of the legal requirements to sell photos and collect taxes. I try very hard to abide by the law, even the silly laws, so I set to work learning about the business and legal structure of my state. This was such hard work, all the reading to see what licenses I needed and where to get them, how much they cost, etc. Thankfully, after much work (and money) I was able to have everything about a week before the show. It was actually a duel showing with my co-worker, which we both agreed was a good idea for advertising purposes since we were both new at this. It went extraordinarily well and we both got a lot of great feedback and publicity. From then on I worked at the coffee shop and as a photographer with whatever jobs I could get. A few high school senior portraits here, a restaurant menu there, a wedding, whatever I was asked to do. I also made some money selling prints of my art shots and the like. I did this for several months, from May to late September, and it was very difficult and stressful. Having a full load at school, working at the coffee shop part time (4 to 5 days a week) and running a new business left me drained and I never had time to do it all. At the end of September (I believe), after much thought and prayer, I quit my job at the coffee shop and dedicated my full work time to photography. I already had my business papers and all the legal stuff, so there was nothing to hold me back. It was very exciting, but at the same time scary. And this is where I am now, a working professional!
Before we finish for today I want to show you a video that Nathanael made during a shooting with the models Miranda Young, Caroline Schmitz and Emily Beard. I say for today because Nathanael has much more to share with the world and I look forward to it. I don't want to tell to much, but I heard that he is busy making a movie based on his play Voice. Yes he also wrote the play. The video below is also a little demonstration of his talent when it comes to filming. So let's look forward to more and make sure you visit the website of this young man, where you can watch many of his photographs: NathanaelGassettPhotography.com!
Have a great day! See you soon.
Mario
Related Posts