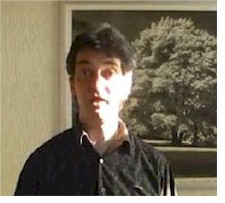 Unbelievable, but this short haired guy on this picture is me precisely one year ago. It's taken of my 'Happy 2008' video I published on Viddler. Even though my positive behavior I remember that I was shaking deep inside, because I knew there where some challenges ahead I wasn't sure I could take. My situation was on the edge, because I was waiting for my tenants to leave. Even though they were a guarantee that I could pay my mortage I decided to say good bye to them. Because I knew that I wouldn't get a monthly paycheck until the end of the year, I knew I had to build my own business and use all my creativity to face those challenges.
To be honest, while I was doing all the best wishes to my fellows of NaNoWriMo, Viddler and Twitter, I was afraid that I wouldn't get the chance to do so one year later.
Now it's one year later and the imaginary dark clouds that where hanging over my future in the begining of the year, were drifting away fast. Having my house for me alone felt so much better than sharing it with problematic people I couldn't cope with and that was so much more important than the money. I started my business in June and I succeed in doing so without asking a bank for money. In the meantime I see a big light on the end of the tunnel and I can asure you it's not the train.
Life is full of disasters that never happens! 2008 was one of those years that made this more clear for me than any other year. The nice thing is that you can start your life over and over again every day. If you have not the life you want, just start the good one tomorrow. No, I am not shaking this time whilst writing this down. I have similar challenges this year, as most of the world population, but I know where to focus on.
So much positive things happend in 2008. I wasn't sure if I could make it true to go to America, like I stated in the video. I remember this funny situation when I postet the following just for fun on twitter: 'When I come for a cup of coffee to NY it will be the first coffe that comes with a $1000 bill'
The answer came from Ilaria @Swimturtle and said: 'But you save on the hotel room as you can stay at my place.'
I was excited and told to my girlfriend that I was invited to New York. Unbelievable, but I knew this was no joke. This was a genuine, generous invitation. No doubt. The whole story (and more) is told by Ilaria in a fantastic post on Titip.com with the title Twitter Can Get You A Home In Every Port. I am very proud on my new sister and all those positive reactions of people that proof one thing: people are nice in general all over the world.
I absolutley recommend reading Ilaria's post!
I am very tired as it's 3:16 in the morning now and maybe my writing sucks right now! But however, I wish you a good night and are glad that you took the time for my blog.
Bless you,
Mario
P.S.: My corpse quest isn't forgotten. It will continue very soon.
P.S.S.: Please forgive me my typo's if you find some!
P.S.S.S.:Take A Look At The Top 10 New Year's Resolutions
Related Posts