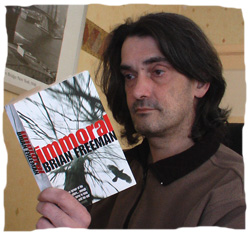 It was somewhere in 2006 whilst trying to learn English. The best way to do that was in my opinion just to read as many English books as possible. The same way I learned Dutch. So I went to the local bookstore and took a look at the small wall with English pockets. It didn't took long and a cover with a blury tree and a flying raven was absorbing my attention. Yes, covers are important. They are the first contact with the reader, but this is not the point in this post. The title of the book is Immoral.
The plot seemed to be good, because there was a beautiful teenager with a twisted background missing. So I thought let's see if we can find her and bought the book.
When I sat down at home, reading with my coffee within reach and my legs on the table, it took just a couple of pages to see that I had a new favorite author on my shelf. Immediately I was in the middle of the story and there was nearly no chance to lay the book aside to do something else. The praises on the back flap didn't lie. They were more than some catchy lines from successful authors that would make you buy this book.
Main Character Jonathan Stride (yes, this guy reappears in following books by Brian Freeman) suffers from an ugly case of déjà vu, when for the second time a beautiful teenager disappears. Without any trace. She's a strange and sexually wild child, this girl named Rachel Deese. A femme fatal if you ask me and you do ask me. The disappearing is very complex and evil. You can already guess that the secrets that will be revealed are chillingly immoral. The journey brings Stride from the ice-filled northern woods to the erotic heat of Las Vegas.
Brian Freeman wrote a debut to be jealous. One hell of a good read.
See you next time!
Mario
Related Posts