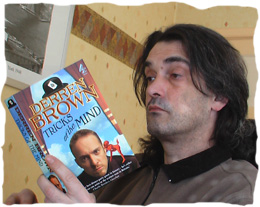 With his typical dry humor, Derren Brown shares surprisingly much information about his 'Tricks Of The Mind' in his bestseller with the same title. If you're fascinated by Derren Brown and want to know what makes him tick, this is your chance. He gives away tricks where you can amaze your friends with, even without feeding them some strong drinks first.

In a pleasant manner he reveals very amazing memory and card tricks. He gives a very useful insight into hypnoses. You discover what a damn clever person he is. More important is that you will be amazed by your own ability of memorizing. For example: write a list of 20 words and number them from 1 to 20. Give it to somebody and let them read the numbers in a random order. Just like the other person wants. You will be able to name every word what stands behind every number. You can also do it with 100 or more words. There are no limits.
I can absolute recommend it, just like Derrens award winning British tv-show 'Tricks Of The Mind'. If you never heard about this guy you should go right now to Youtube and watch some of the video's. There are many and be warned it's addictive, so it can happen that you go to bed very late tonight!
Related Posts