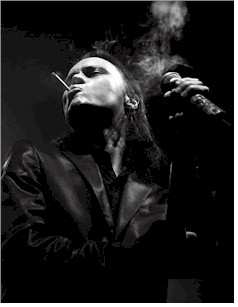 There is just one male person walking over this planets surface, where I have to admit that he did not just caught my attention with his work and art but also with his looks. For the guys: we all would admit that actors like Brat Pitt, Ben Affleck a.s.o. are handsome guys. Yes, in most cases they are even more handsome than you, my dear reader. No hard feelings please, we stand in the same kind of shoes, what makes it more bearable for the both of us.
A couple of years ago, I saw for the first time a concert of the Finnish rock band HIM (His Infernal Majesty) on the German televison. (Years later I visited one of their rare concerts on a rock festival here in the Netherlands). l wasn't just absorbed by their great songs like Join me in Death and Gone with the sin, but also by the androgynous beauty of the charismatic front man/singer Ville Valo. This was one of the rare moments where I thought: Hey, why don't I look that great? According to many male reactions on forums I'm not the only man thinking this way.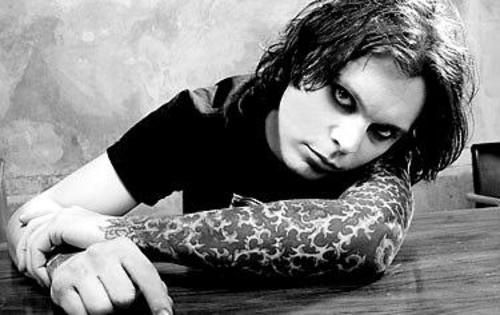 I think that good looks can open doors for you, but this will never be a guarantee for success on the long term. The reason for the success of HIM and their chain-smoking (during his performance) and artfully tattooed singer Ville Valo is their passion for what they do. In my eyes, HIM is one of this bands that's capable to produce an album that is enjoyable from the first to the last song. You don't need to skip a single song, they are just all good. Recognizable intros and hooks that let you hum. Creating a sort of dark romantic atmosphere all over the place.
A couple of weeks ago I saw an interview where the host said that he envied Ville Valo that he was the only person in the building that was allowed to smoke during his gig. The reason for this was simple: Ville Valo declared that the smoking was an important part of the act.
I never understood that HIM hadn't had a big break through here in the Netherlands, similar to Germany and all the other countries. Even though nearly everybody knows their song Join me, there is just a relatively small audience here.
Normally I want to avoid embedding music videos here, but here's one for the exception. (It will be removed when I'm forced to do so.)
Thanks for reading and don't smoke that much! I try not to do it either.
Mario
Related Posts