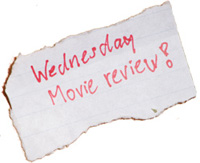 This is the first edition of the Wednesday Movie Reviews that will, of course, be a regular part of this blog every Wednesday. It's not necessarily that I talk about movies that are in theaters at the very moment. I will talk about movies that caught my attention. Therefore it can happen, like this week, that I write a review about a movie that's a little bit older (2001) and don't plays in theaters anymore. This week we have such a movie.
When it comes to books or movies about the use of any anti-depressive medications like Prozac, I look at it very close and maybe more careful. This is because I used anti-depressive like Lexapro and Notrilen myself (whereby the latter are Brands of certain medicines in the Netherlands). Luckily after two years I was and I am completely recovered from my depression. Besides the medication the main work was done by Paul McKenna. However, I want to review the movie and not my medical record here. Besides this, I surely wasn't that manic depressive like the main character Elizabeth Wurtzel in this movie, that is based on a true story. I didn't picked the movie because of the true story thing. Most of the time I don't know this before I even push the play button of my DVD-player.
The story is about Elizabeth Wurtzel, a 19 year old girl that go's to Harvard because she wants to become a writer. Everything works fine and she gets a job as freelancer for the Rolling Stone. She even meets Lou Reed (who plays himself in the movie). Even though she has all the fun with her girlfriends and her boyfriend she becomes depressed and her life is getting more and more out of control.
Christina Ricci plays the part of Elizabeth Wurtzel very convincing and she's supported as well by Jessica Lang, who plays her mother. For me the most intruiging moments are when Ricci switches between the typical ups and downs of the depression very quickly. This are symptoms I could see by my grandma, who had a very bad manic depression all her life and who refused any medical support in any way. She could make your Christmas a hell and would ask you less than five minutes later if you would like to unboxing the presents. In the movie Ricci blames her mother that her father has gone and a moment later she hugs her and says crying how sorry she is about all that. A few moments later she begins blaming again. A very annoying situation, not just for the depressive patient but also for the people who have to cope with such a person. The fact that you begin to dislike Ricci is the proof of her acting talent. Keep in mind that she is playing a role whilst watching this movie.
As this movie is very close to reality I wouldn't recommend it to people who are in a depression (in my case it proves that I am over it). Everyone else I can surly recommend it. For the very good play of Ricci and Lang I would give the movie 3,5 stars out of 5.
Related Posts