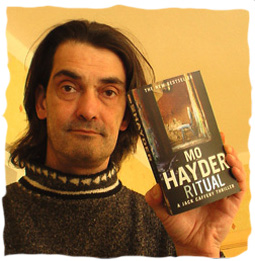 After revealing in The Treatment that main character Jack Caffery's brother Ewan isn't murdered when they were children, Mo Hayder left behind an audience wondering if he will ever find out. In a certain way that made all the readers accomplices as they knew more than the person that suffered the most: Jack Caffery.
Instead of giving an answer to this burning question there was no Jack Caffery in the following books. No, in the meantime she came with the brilliant literary thriller Tokio, what is one of my all time favorites and that helped me creating the time grid for my own book Loser – Director's Cut. After that she did a good job with Pig Island. No Jack Caffery involved here either.
When I read a couple of month ago that there was a new thriller with my favorite lost soul coming up, I couldn't wait to lay my hands on it and find out if he would find out more. And you know what? I don't want to spoil the experience for you. I don't tell if Jack Caffery will find his brother. One thing I can tell is that he never could free his mind of the loss.
Besides Jack Caffery's backstory within his own subplot there are a lot horrible Hayder-like things going on in Ritual. Sergeant Flea Marley is a police diver and she finds a human hand under water in Bristol Harbor. After the discovery that the hand has been removed while the victim was still alive when the hand has been removed, Jack Caffery and Flea Marley are lead into a sinister underworld with very weird Rituals.
As always Mo Hayder did her homework very well when it comes to research. After reading you could wonder if she was a police diver herself. Ritual is one hell of a read that is not only recommended for fans of Jack Caffery. That our friend is back is just that 'little' extra that makes it more worth reading than ever. I'm pretty sure that if Ritual is the first book you read by this author you immediatly want to know more. If this is true, I recommend you to read Birdman and The Treatment as well.
Related Posts