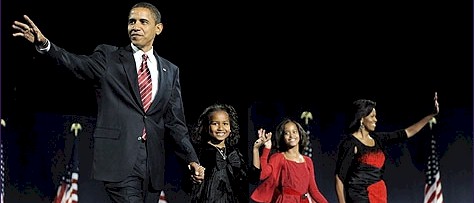 I can't go to sleep before I did not congratulate all the citizens of the USA and the rest of the world with the election of the new President Barack Obama. As I was for the very first time in my life in the states and had the permission to help handle the lever on a Obama-vote, this is an unforgettable day to me. I witnessed history from the home of a very adorable family in Brooklyn who gives me the privilege to be their guest for a week.
When I left the Netherlands on November 3, I came from a country who's people hadn't much sympathy with the American's anymore (after 8 years Bush), even though the Dutch government tends to say otherwise. What makes my heart sing is the fact that, when I get on my plane back home on Sunday November 9, I will go back to a country where the vast amount of citizens share their feelings with the American people again. I'll go back to a country where the people share the love and hope with the Americans. This are more than just some words written down in blog. This are two of the most important values we have: love and hope.
Yes We Can!
What else could I say more?
Thank you America.
Hugs,
Mario
Related Posts